OUR BRAIN MATTERS - Click Here

Hundreds of memory boosting exercises to stimulate the brain and battle memory loss Learn More
Activities and the battle against dementia'
by Gareth Rowlands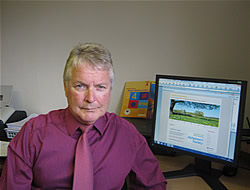 The booklet ' Activities and the battle against dementia' has been written from the author's experiences derived from caring directly for people suffering from Alzheimer's disease and varying degrees and types of dementia, along with his own reading and research into these illnesses. In his spare time, he assisted his wife Nicky a District Nursing Sister, in the running of a residential care home in Barnet, Hertfordshire as an Activities Co-ordinator.

In suggesting in the resource the use of suitable activities, tried and tested, in the care of people suffering from different stages of dementia, the author clearly recognises and acknowledges the constant personal attention that patients need and is so readily given to them by their carers. There are so many hard-working and dedicated carers who give of their very best in their unwavering efforts to improve the quality of life of those who have become
so vulnerable and completely dependent on them.
'Activities for today Residential and Care Homes' can be obtained from Zig Zag publishers
Zig Zag Education
ZigZag Education is a Bristol-based UK educational publisher of teaching resources for schools and colleges including Care Home resources.
It has published the very successful resource 'Activities for Today' (3rd edition) also written by the author of the free download 'Activities and the battle against dementia'
To View Zig Zag Education Click Here
Click on Just giving to Donate


To Dementia UK
Click on Just giving to Donate

To Alzheimer's Society



'It is hoped that all those involved in the care of people suffering from dementia will find this resource useful and supportive in their daily on-going efforts to look after them, and that the resource can help all involved to appreciate and understand how and why sufferers of dementia behave in certain ways, and how to cope with them in difficult and trying situations.

Encouragement and support to take part in any activity should be given gently and tactfully but at no time should any activity be imposed on a person who may wish to be left in peace and quiet and watch what's going on whilst remaining at rest as a spectator.

It is evident that making use and adapting activities in any form with people suffering from dementia helps to improve their quality of life. As mentioned in the resource, activities have to be well-organised and well-planned but they should always be made success-orientated, failure free, purposeful, fun and always enjoyable not only for the person involved but also for the carer.'