Home Instead Senior Care Welwyn and Hatfield have partnered with Blueberry Hill Care to launch a Dementia Friendly Community Café at The Family Centre, Woodhall Lane, Welwyn Garden City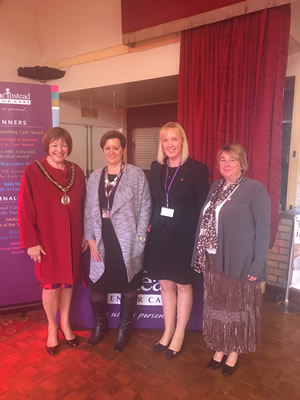 Photo Caption: Deputy Mayor - Councillor Barbara Fitzsimon, MD Home Instead Welwyn and Hatfield -Heather Simms, MD Blueberry Hill Care - Shelley Jackson, and Community Support Representative - Jane Andrews


The Dementia Friendly Community Café, has been created for anyone in later life, their carer's, family and friends. The café offers a safe, welcoming atmosphere for those who require stimulation, socialization and for those who feel lonely and isolated.

The café's launch, on the 9th November, gave like-minded people the chance to socialise, have a cup of tea, enjoy some stimulating activities, crafts and music played on a classic guitar. Tesco Extra kindly donated sandwich platters and cakes for the event.


Welwyn and Hatfield's Deputy Mayor, Councillor Barbara Fitzsimon was in attendance, alongside many charity organisations, members of the Dementia Action Alliance, supportive businesses and local government bodies from both Welwyn Hatfield and Hertsmere area.
Community Support Representative for Home Instead Senior Care, Jane Andrews, said:
"I would like to thank Blueberry Hill Care for allowing us to use their venue once a month, all of the amazing volunteers and Tesco Extra, Hatfield, for their very kind donation of food."
"We are overjoyed by the launch of our Dementia Friendly Community Café. It was such a delight to welcome the local community to the launch. Our aim is to bring together as many of the ageing community as possible."


Jane continued: "With an ageing population, cases of dementia are increasing. This means that more and more people in the local area will be affected by the condition at some point in their lives. It is our hope that by educating the local community, we can create superior dementia awareness and through positive social interaction we can drive our mission to create a dementia friendly community."


The Dementia Friendly Community Café will run every third Thursday of the month, with families, friends and care support all welcome.

If you would like to find out more please visit: https://www.homeinstead.co.uk/welwyn or call 01707 240 650



Press contact: Charlotte Gribbin, Calvin Marketing, 01477 571888, charlotte@calvinm.co.uk
Click on Just giving to Donate

To Dementia UK



Click on Just giving to Donate

To Alzheimer's Society



The author of the care booklets lives in Hertfordshire.He has written a number of Mathematics books for teachers and students in schools and colleges throughout Africa, the Middle East, the Far East and the United Kingdom.
He has been a Mathematics teacher for many years and is also a magistrate.He is committed to giving and raising support for the Alzheime's Society and Dementia UK and all involved in the care of the elderly and frail.
He wishes to thank everyone for their time and kind support for his Big Society response including the designers of this web site Pauline & Andy from Colney Web Services Based in London Colney Near St Albans